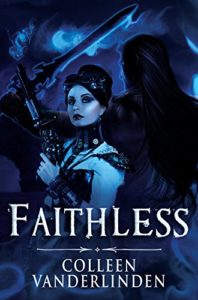 I am a bad blogger.
But hopefully a good writer?
So maybe it balances out. Anyway, I figured it would be a good time to share what my plans are for the rest of 2018 in regard to ongoing series and the one new series I'm launching this year (this month, in fact!)
We'll take it series-by-series and then I'll wrap it all up at the end of this post. Buckle up. It's going to be a busy year.
Current Ongoing Series
The Hidden Series
I published Faithless, which is a sidestory novel for the Hidden series and takes place during Godkiller, at the end of March. The rest of the Godkiller trilogy will be released this year.
Godbreaker: August 2018
Godborn: November 2018
StrikeForce
As you know if you've kept up with this series, the first major arc of Jolene's story ended with Day's End, and now we're moving onto the Ghost arc. There will be two StrikeForce books out this year:
Haunted: July 2018
Untitled: October 2018
Paradise Bay (contemporary romance written as Ella Linden)
Books five and six will both be out by the end of the year, and I'm not sure whether that will be it for this series or if I'll keep going. I have plans through book 6, but I could keep the series going if it's something I feel like doing. I'll see how I feel at the end of the year.
Waiting Game (Lauren and Jack's book):  June 2018
Untitled (Holly and Scott's book): November 2018
And Now, the NEW SERIES!
My new series, the Moira Chase Series, is about a kitchen witch (which is a witch whose magic is focused around food) who takes over the family bakery in a small town in northern Michigan. In addition to kitchen witchery, Moira can also sense spirits, and this leads to chaos in her life when she buys a haunted item at a local consignment shop.
So the kitchen witch turned bakery owner ends up finding herself also fulfilling the role of amateur sleuth, trying to solve the mystery that comes along with this ghost who now won't leave her alone. Add in a bit of small-town quirkiness, a sexy and somewhat mysterious police chief, a lot of food, and a bakery haunted by generations of Moira's foremothers (also witches) and you get the Moira Chase series!
I have already had so much fun working on this and I can't wait for you guys to read it. I'll have an excerpt of the first chapter up on the blog this weekend.
Ace of Wands: May 15, 2018
Two of Swords: July 2018
Untitled: October 2018
Whew. I'm tired just looking at that! But excited too. Last year was… blergh. I wrote and published some fun books in the first half of the year but that last half of the  year and early 2018 were rough. I feel like I've been back on my game the last couple of months and having so much fun writing again. I can't wait to share all of these books with you!
What are you looking forward to most?